Top Reasons Why Cotton Kurtis Will Always Be A Fashion Icon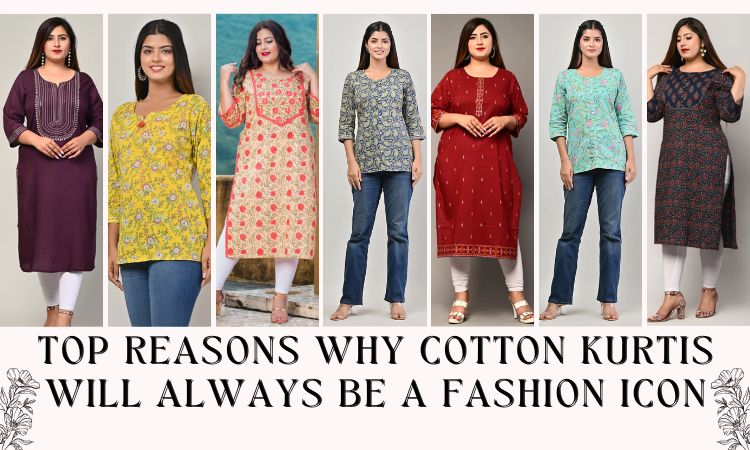 Indians are fond of wearing kurtis for any occasion and styling them with different bottoms, accessories, etc. Apart from this, considering the fabric of the kurti is also essential. This is where a kurti in cotton would be a great choice. Cotton is a well-known and most-used fabric in India. Women love wearing cotton as their everyday clothes because they are breathable and comfortable. It is such an amazing fabric that makes you feel easy and lightweight throughout the day. Different styles, cuts and colours of kurtis match the aesthetics of your personality.
From simple white and black cotton straight kurti to now being available in beautiful prints, cotton kurtis have come a long way. The best part? , despite being so simple, these cotton kurtis have always been in trend. In this blog, we will see the reason why cotton kurtis will always make a fashion statement in Indian ethnic wear.
Five Reasons Why Cotton Kurtis Are The Best
1. The fabric is soft as a feather
Cotton fabric is one of the most popular and widely used fabrics worldwide. The fabric is known for its softness, breathability, and versatility. Cotton fabric is made from the natural fibres of the cotton plant and is loved by people of all ages and backgrounds. One of the main reasons cotton fabric is soft is its unique fibre structure.
Cotton fibres create a soft and fluffy texture because they are naturally twisted. When these fibres are spun into yarn, they create a fabric that is light, airy, and incredibly soft to the touch. The natural structure of cotton fibres also makes them highly absorbent, which means that cotton fabrics can wick away moisture and keep you feeling dry and comfortable.
2. Fits perfectly on all body types
Cotton is a kurti clothing that perfectly fits all body types. Cotton is an excellent choice for any outfit, whether you're tall, short, curvy, or slim. Because it's a natural fibre, it's not too heavy or light, so it drapes beautifully on everybody. It's also soft and gentle, making it an excellent choice for people with sensitive skin.
Cotton is an excellent choice for people with curvy bodies because it's not clingy or tight. This is also the reason why you may see so many plus size cotton kurtis in the market., it will drape over your curves, giving you a comfortable and flattering fit. On the other hand, if you have a lean body, cotton can add some volume and texture to your look, making you look fuller and more shapely.
3. They are long-lasting, user-friendly, and stylish
One of the main benefits of cotton is its durability. Cotton is a strong fibre that can withstand wear and tear. This means that cotton clothing can last long, even with regular use. It can also be washed and dried without losing its shape or colour. This long-lasting quality makes cotton an excellent investment for your wardrobe.
Cotton is also user-friendly. It is a breathable fabric that circulates air around your body, keeping you cool and comfortable. This is especially important during the hot summer or when engaging in physical activity. Cotton is also hypoallergenic, making it less likely to cause skin irritation or allergic reactions. This makes it an excellent option for people with sensitive skin.
4. Available in a variety of hues & Eco friendly
Cotton comes in various colours and shades, perfect for every occasion. The choices available in cotton make it easier for you to find the right piece of clothing for the occasion. Whether you are looking for a bold and vibrant colour to make a statement or a soft and subtle shade to create a calming atmosphere, this fabric has got you covered. From classic white and black to bright reds and blues, a cotton colour is perfect for every occasion.
For those who are eco-conscious, organic cotton is a great option. Organic cotton is grown without harmful pesticides and chemicals, making it a sustainable and safe choice for the environment and those who use it. And, of course, organic cotton is available in a variety of colours and hues as well.
5. There is no limit to styles
Cotton is a limitless fabric that is durable and fashionable, and it is available in all shades. From classic to modern, casual to formal, cotton can be styled in countless ways to suit any taste or occasion. One of the great things about cotton is its ability to adapt to different styles. Another great thing about cotton is its variety of colours and patterns.
Cotton is dyed in various colours and patterns, from bold and bright to soft and subtle. This makes it easy to find cotton pieces that suit your style and colour preferences. Moreover, as cotton kurtis come in different styles like straight kurtis and A-line kurtis, it also makes it easy for the wearer to pair them with any type of bottom.
Conclusion
In Conclusion, we can say that cotton is one fabric with all the qualities to be our favourite no matter the occasion. So, if you want to update your wardrobe with stunning cotton kurtas, then Swasti Clothing's collection will impress you. We have a wide range of cotton straight kurtis in unique prints and colours that are ideal for daily wear, office wear or whatever requirements you may have. Check out the selection today!