Upgrade Your Ethnic Wardrobe with These Trendy Plus Size Kurtis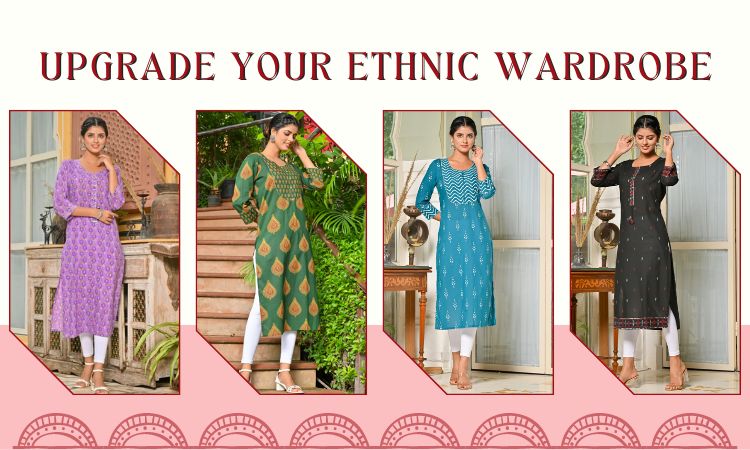 Indian ethnic wear holds a significant place in the lives of every Indian, and it is even a source of immense pride for them. Ethnic fashion is an excellent means of showcasing the country's traditionalism, diversity, and vibrant culture in a highly fashionable way. The ethnic fashion industry is expansive, with new trends and clothing options flooding the markets regularly. However, in the past, shopping for plus-sized women was challenging, especially online, due to the lack of appropriate fits and designs.
But today, at Swasti Clothing, we have resolved this issue by offering a unique collection of ethnic wear designed to flatter and made from our comfortable signature fabrics. Our extensive range of vibrant prints and refreshing hues is adorned with elegant details such as Gota Patti, Embroideries, Ikat work, block print, and Bandhani print. We have styled a special edit of outfit ideas for plus-sized ladies featuring a variety of ethnic wear, such as kurtis and suit sets. These outfits are perfect for busy workdays, intimate dinners, and festive celebrations. We have handpicked our chart-topping styles from our plus-size clothing ideas for you to explore further.
With the festive season just around the corner, we recommend being a proactive shopper and avoiding last-minute dress-up hassle. We can't wait for you to showcase these styles that we have curated with extra love and only love! So, here are Swasti Clothing's exquisite plus-size kurtis that you should definitely have in your wardrobe.
Discover Our Exquisite Plus Size Kurtis for Your Wardrobe Amp Up
Cotton Plus Size Kurti
Enjoy comfort all day long this summer by wearing our comfy and stylish plus size cotton kurtis. Our kurtis are designed to cater to the fashion needs of modern plus-size women. Curated from premium quality cotton, our kurtis are super comfortable and breathable, making them perfect for everyday wear. The fabric from which our beautiful cotton kurtis are made is lightweight and airy, which makes every piece perfect for hot and humid weather conditions. Additionally, our cotton kurtis feature intricate designs and patterns that are perfect for any occasion. Moreover, the rich hues and vibrant colours of Swasti Clothing cotton kurtis are sure to make you stand out in any crowd. So, get our cotton plus sizes without compromising on style or comfort.
Short Plus Size Kurti
Add some extra flair to your work wear with our plus size short kurtis. In any professional environment, it is imperative to maintain a polished and well-groomed appearance. To achieve this, Swasti Clothing offers an array of short plus-size kurtis. Our collection boasts a diverse range of intricate details and fabrics, including floral prints, cotton blends, solid colours, and block prints. With such a wide selection of trendy hues, you're sure to find the perfect short kurti to wear to the office.
Embroidered Plus Size Kurtis
Feeling to take up a notch from printed kurtis? The embroidered kurtis from Swasti Clothing are what you need to look for a more elevated look. Embroidery is a refined art form that holds a significant place in ethnic fashion. Our embroidered kurtas are skillfully woven into a variety of fabrics, making them the epitome of sophistication and grace. It's essential to have at least one of these stunning pieces in your wardrobe. We offer a range of embroidered plus-size kurtis in various cuts, silhouettes, fabrics, necklines, designs, and styles to meet your unique fashion needs. Our kurtis are versatile enough to be worn at any event, from daytime gatherings to evening soirées, and provide the comfort you desire.
Floral Print Plus Size Kurti
Get ready for a springtime vibe this weekend with our stunning collection of plus-size kurtis adorned with floral prints. Whether you plan to watch a movie or go for a long drive alone, our plus-size kurtis with vibrant floral designs will make you look effortlessly fashionable. Our plus-size casual outfit ideas offer a variety of options to choose from. You can pair the kurtis with solid culottes or palazzo pants and accessorize with oxidized danglers and a pair of kolhapuris to complete the look. From daily wear to functions and parties, our floral printed kurtis collection has something for everyone. So, make sure to add this must-have piece to your plus-size ethnic closet this season.
Wrapping UP!
Therefore, when it comes to ethnic wear, having a variety of options is always a plus. Swasti Clothing offers a range of plus-size kurtis that will ensure your closet is always stocked with stylish pieces. From short kurtis to embroidered kurtis and printed kurtis, our collection has it all. You can also choose from straight-cut kurtis, anarkali style, bandhani print, ikat print, and many more. In addition, each piece is available in a range of hues that will leave you spoilt for choice. With Swasti Clothing, you can easily shop for your favourite plus size printed kurtis to
short kurtis online
at affordable prices without compromising on quality. Don't miss out on this opportunity to elevate your ethnic wear collection.