Turn Heads This Bhaidooj with These Stunning Short Kurtas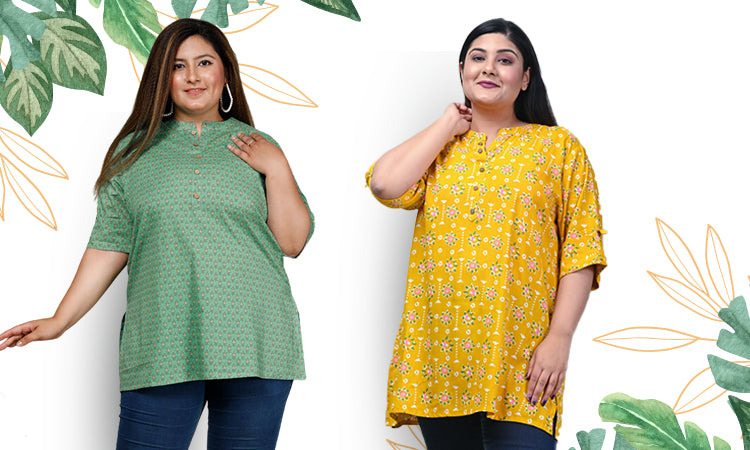 The festive season is an exciting time of the year, and dressing up in beautiful outfits to sparkle the spirit of the festival is something everybody wants. With classic prints of kurta sets to something simple and bold, you can always find an ethnic attire that suits your personality and brings out the best. Wearing clothes trending in the market is the right choice when shopping for the festive season. Now, would you like to buy a printed short kurta this Bhaidooj? Short kurtas are in trend, and when paired with accessories, one can create just the right look for the occasion. With different shades and prints of the short kurta, find something that adds beauty and class to your outfit. This blog explores the different types of short kurtas you can add to your festive collection and pair them with accessories perfectly matching the shade of your short kurtas.
Here are the best short kurtas to add to your collection
Plus Size Mustard Cotton Short Kurta
Mustard is a simple and sophisticated shade that you can add to your festive collection. Also, the shade adds an extra touch to your celebration as the colour brings good fortune to your day. The kurta is made from pure cotton, making it the perfect choice for the summer season. And, the fabric of the kurta makes it both comfortable and breathable as well. Therefore, the printed short kurti has a simple print that adds aesthetics to your festive wear.
Green Printed Short Kurta
The light green shade of the short kurta features a mandarin collar to create a bright look for your festive wear. The kurta offers a trendy look combining style, functionality and comfort. And, the sleeves of the kurta are 3/4 in length, which adds nothing less than elegance to your kurta look. One can add a different type of bottoms according to their choice and personality to their short kurti set for women. Therefore, add some beautiful and simple accessories like earrings and bangles to complete the look for the festive season.
Black Cotton Floral Print Short Kurta
Isn't black a must have shade for our collection of clothes? Are you looking for plus size short kurtis to add to your wardrobe? And, this plus size short kurti in black with a floral print is a trendsetter for your wardrobe because the shade adds edgy detailing to your outfit, making everybody notice your outfit. Along with this, add some simple silver accessories like earrings, rings, and bangles for a complete ethnic look for the festive season.
Pink Cotton Leheriya Print Short Kurta
Is pink your favourite colour? Does the pink shade add a sense of calm and peace to your personality? If yes, this pink cotton leheriya printed short kurta is for you. And, the shade of pink is perfect for daily wear or even the festive season. Also, the bright shade of pink creates a complete look. The pinkish hue, along with a leheriya print, adds charm to your personality. Therefore, when paired with the right accessories like gold earrings or bangles, the look is exquisite and sophisticated for the festive season.
Off white Solid Short Kurta
Are you more into wearing solid shades, even for the festive season? If you prefer simple and plain clothes over everything, then this off white, solid coloured short kurta is tailored for you. And, the off white shade creates a calming effect on the person wearing the kurta, and one can add multicoloured accessories to the kurta for a creative and outstanding look. Also, you can add a scarf matching the ethnic touch of the kurta to complete the look.
Light Blue Printed Short Kurta
The shade of blue is a representation of sensitivity and freedom. The trend for kurti sets online is booming every day, and many people find it easier to find the shade they like and purchase it online. Blue would be an excellent choice for the festive season, as the light shade adds sophistication and style to your outfit. The beautiful blue shade and prints on a high quality cotton fabric are just what you are looking for.
Conclusion
If you want to make a lasting impression on Bhaidooj, opting for stunning short kurtas is the way to go. These fashionable outfits are perfect for any festive occasion. With their unique designs, vibrant colours, and comfortable fabrics, they will turn heads wherever you go. Buy short kurtis online from Swasti Clothing and pair them with traditional bottoms and different types of accessories to match the aesthetics of ethnic wear.