From Work to Weekend: Versatile Kurtas for Daily Wear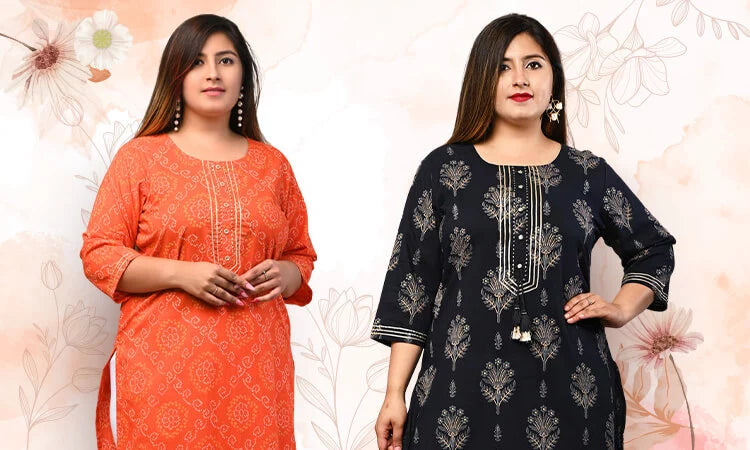 Kurtis are the most comfortable and stylish addition to your wardrobe. They are the right option for workwear and your weekend brunches—a perfect balance between professionalism and style. Adding kurtis to your collection in different prints and colours is a classic for everyday wear.
As new trends come in, you can add many prints to your wardrobe according to your preferences and occasion. Like, a bandhani print kurta would make an excellent choice for your office gatherings and if you want to enjoy a day off in a comfortable yet beautiful piece of clothing.
From classic printed kurtis to something heavy, you can always find a print and colour according to your choice for daily wear. This blog explores the different styles of kurta sets you can add to your wardrobe.
Here are the six classic kurta options for daily wear
1. Red Cotton Floral Print Kurta
Red has always been everybody's favourite colour, and how would you like to make a bold statement with this vibrant shade of red? And, the shade of red creates an aesthetic effect on your personality as the shade is mainly associated with the festivities of our culture. Also, the rich shade and eye catching floral print kurta is the perfect addition for a day at work or a casual outing with your friends. The kurta can be paired with bottoms according to your comfort for a stylish look. Finally, add simple accessories to your outfit for a complete look.
2. Orange Cotton Blend Printed Kurta
Bring out the confidence in you by adding this orange coloured plus size kurti to your collection of ethnic wear. As we know, Orange is a vibrant shade and creates a popping effect on your personality. Also, print on cotton fabric is the only choice for many as it enhances the pattern's visual impact, making the print or the design stunning and aesthetic. Other than this, cotton keeps you comfortable during summer days. Finally, pair the kurta with statement accessories for a complete look.
3. Green Printed Flared Kurta
Green is a shade for those who want to embrace their "Down to Earth" personality. And, the shade creates a simple and classic effect on your personality. Also, the flared style of the kurta has a flowy silhouette, and the delicate prints of the kurta make it a "must have" choice in your wardrobe. Therefore, with this cotton flared palazzo, adding a matching palazzo would complete your look more sophisticatedly. Also, the mandarin neck of the kurta creates a classy look.
4. White Cotton Kurta
White is the most chosen colour for a kurta because of its endless pairing options. And, the classic and timeless look of the plus size white kurti is a stunning option if you want simplicity and sophistication in your outfit. Also, for a complete look, one can add statement jewellery with a multicoloured dupatta to their white coloured kurta. Therefore, you can use any bottoms in any colour to look more pleasing.
5. Sky Blue Printed Kurta Set
The sky blue colour is a representation of calmness. Someone fond of wearing light colours can show off the calmness they hold in their nature. And, this kurta pant set for women in a light shade of blue is complete with comfortable bottoms and a dupatta, making it perfect for any occasion or everyday wear. Also, the matching set gives your personality an effortless look. Finally, add some accessories to your outfit to add a touch of class to your outfit.
6. Pink Cotton Bandhani Print Kurta
If you want to add some traditional charm to your wardrobe, then this pink bandhani kurta is the perfect match. And, the print of the kurta is visually appealing, and the vibrancy of the pink shade makes the kurta a highlight. Also, the comfortable fabric of the kurta and the light shade creates an appealing look. Therefore, dress the kurta with earrings and bottoms of your choice.
Conclusion
Kurtas are a must have in your collection of clothes. Styling a daily wear kurta or for weekend gatherings is an easy choice. And, the kurta is comfortable, and one can quickly create an aesthetic look by wearing a kurta set. Also, these kurtas offer endless options for creating unique and fashionable outfits. Swasti Clothing offers a comprehensive collection of kurtas in different styles, sizes, and colours and designs perfect for casual or occasional wear. Finally, put together a fashion statement by adding simple accessories to your kurta and complete the look with a heavy dupatta.