Fashionable and Comfortable: Top Picks for Daily Wear Cotton Kurtis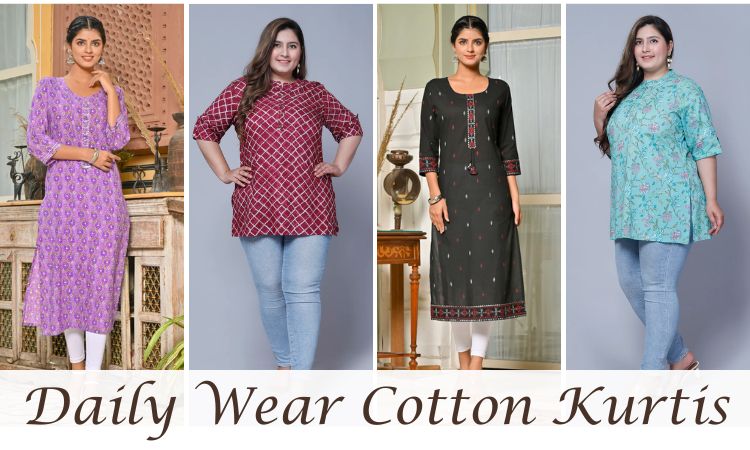 During winters, laziness might be the dominant feeling, but in summers, irritation takes its place. The scorching temperatures test our patience, and our tolerance for unnecessary troubles is at its lowest. Even those who put effort into dressing up every day can't resist slipping into something cool and fuss-free.
From our viewpoint, during these hot months, nothing is as effortless as a simple cotton Kurti. It's classic, understated, and easy-going and serves as the perfect seasonal fashion hack to keep cool and stylish at the same time. However, we must admit that our summer ethnic wardrobe needs an update now. So, why don't we do it together? To begin, take a look at these daily wear cotton Kurtis for summers that we have gathered for you.
Elevate Your Everyday Style with Our Comfy and Chic Cotton Kurtis
Charming Blue Floral Print Straight Kurta
Ace your everyday look effortlessly with our stunningly crafted blue cotton floral print straight kurta. This exquisite piece is designed to provide ultimate comfort, thanks to its round neck and three-fourth sleeves. With its elegant floral print, this kurta is perfect for any occasion, making it a versatile addition to your wardrobe.
Curated with premium quality cotton fabric, it boasts exceptional durability and easy maintenance. Whether you're dressing up for a formal event or simply running errands, this kurta is sure to make you stand out from the crowd. So why wait? Add this gorgeous blue floral print kurta from Swasti Clothing to your collection today!
Alluring Pink Cotton Leheriya Embroidered Kurta
Revamp your daily wardrobe with this comfortable and stylish pink Leheriya print kurta that you can wear all day long. Whether you're working in the kitchen or running errands, this kurta is the perfect choice for effortless style. Featuring a straight silhouette, this kurta is designed for maximum comfort.
Additionally, the round neck and three-fourth sleeves add a touch of elegance to the design, while the side slits add a practical element, allowing you to move with ease. The leheriya print adds a pop of colour, making this kurta a versatile piece that you can wear day in and day out. Crafted from high-quality cotton, this kurta is lightweight, breathable, and easy to care for. Available in a range of sizes, it is designed to fit and flatter every body type. So, get this perfect blend of comfort and style today.
Classy Black Ikat Print Daily Wear Kurta
Get a daily fashion must-have by shopping for this black ikat print kurta from Swasti Clothing. Whether you're headed to college or just lounging at home, this brilliant black kurta is the ultimate choice for casual wear. Crafted from premium quality pure cotton fabric, it offers a relaxed fit that ensures maximum comfort and style.
Featuring a round neck and side slits, this kurta is designed to provide a perfect fit that flatters all body types. The unique ikat prints on the kurta make it a truly standout piece, making it an ideal daily outfit that is sure to turn heads. Its timeless design is perfect for countless casual outings, making it a versatile addition to your wardrobe. Our Black Ikat Print Kurta is a must-have for anyone looking to stay stylish and comfortable on a daily basis. Don't miss out on this unique and stylish piece that is sure to elevate your fashion game. Shop this exquisite black ikat print kurta and experience the ultimate in comfort and style!
Luxurious Off-White Cotton Blend Short Kurta
Upgrade your style game with our Off White Cotton Blend Short Kurta. This stylish piece is designed to slay your looks while keeping you comfortable throughout the day. The Mandarin collar and regular sleeves add a touch of elegance to the kurta, making it one of the best office wear kurtas for the season.
Curated from high-quality Rayon fabric, this piece boasts a solid pattern in a timeless off-white colour. Whether you want to dress it up or dress it down, this kurta is incredibly versatile and can be styled in a variety of ways. Don't miss out on the chance to add this must-have piece to your wardrobe. Order our off-white cotton blend short kurta and experience the perfect blend of style and comfort.
Alluring Yellow Floral Print Short Kurta
Simplify your daily style routine with this Yellow floral short Kurta from Swasti Clothing. The kurta is adorned with stunning prints and patterns that will surely turn heads wherever you go. Crafted with pure cotton fabric, this kurta is not only stylish but also versatile and durable. The round neckline and three-fourth sleeves add to the charm of this kurta, making it a must-have in your wardrobe.
Whether you're going out with friends or heading to the office, this casual kurta is the perfect outfit for any occasion. It's comfortable, fashionable, and easy to wear, making it a go-to for any busy day. Don't miss out on this exquisite piece of clothing - shop now and add some flair to your everyday attire!
Wrapping Up!
In conclusion, cotton kurtis are a versatile and comfortable wardrobe staple that can be worn on a daily basis. With the wide range of options available, it is easy to find a kurti that suits your style and preference. From traditional prints to modern designs, cotton kurtis offer a perfect blend of style, comfort, and affordability. So whether you are working from home or going out for a casual lunch with friends, these fashionable and comfortable kurtis are the perfect choice to elevate your daily wear wardrobe.
If you are looking for a fashionable and beautiful kurti set online, Swasti Clothing is one of the top premium stores to shop from. Their vast kurti collection is perfect for elevating your daily wear wardrobe, including printed kurtis, short kurtis, straight kurtis, and many other styles. Take a look at their collection now and discover the perfect kurti set online for yourself.