Plus Size Kurtis for Work: Comfortable and Chic Office Wear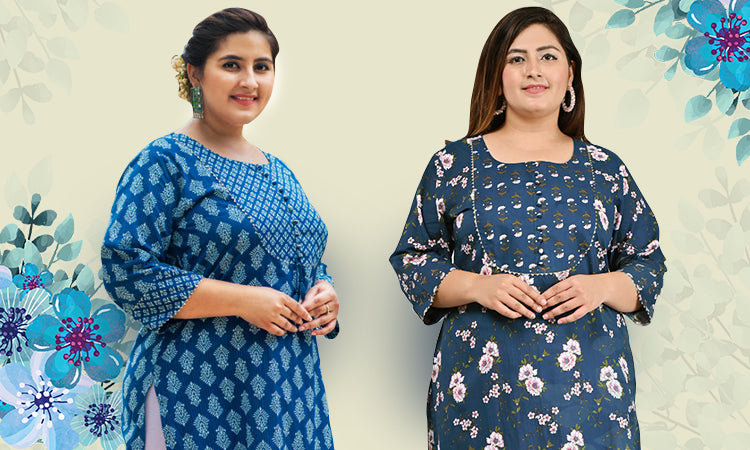 When it comes to office wear, comfort and style are the two most crucial factors that every working woman looks forward to. And if you are a plus-size lady, finding the right outfit which is both comfortable and trendy can be a huge challenge. But with the popularity of plus size kurtis, you can now easily find a wide range of options that are comfortable and give you a chic and trendy look to your office look. In this blog, we will be exploring some of the best plus-size kurtis for work that you can add to your wardrobe.
Our Most Comfortable & Chic Office Wear Kurtis:
Plus Size Peach Cotton Floral Print Straight Kurta
The first from our choice of best office wear kurtis would be this peach colour straight kurti. It is a must-have plus size long kurti that is made from soft, breathable cotton fabric that makes it comfortable to wear all day long. The elegant floral print on the kurta adds a touch of femininity. Moreover, the straight cut gives it a professional look that is truly perfect for the office. You can pair it with matching bottoms of your choice to give yourself the ideal everyday office look.
Plus Size Blue Cotton Printed Short Kurta
Many women who have a plus-size figure often find themselves stuck to the traditional long kurtis. However, with our collection, they can try out a new ethnic look with a printed short kurta. This blue cotton printed short kurta for plus-size women is perfect for those who prefer a shorter length. The kurta is made from soft cotton fabric that is gentle on the skin and keeps you comfortable all day long. The kurti flaunts a stylish design and print, which adds a touch of sophistication to your attire.
Plus Size Purple Cotton Floral Print Straight Kurta
While there are many plus size kurtis for ladies out there, plus size purple cotton floral print straight kurta is a must. This kurti features chic side slits and a round neck design, giving it both traditional and modern touch, making it perfect for any occasion. Made from high-quality cotton fabric, the kurta is breathable and comfortable, making it ideal for everyday wear. The straight-cut designs make it a must-have for your office wear wardrobe.
Plus Size Maroon Cotton Floral Print Short Kurta
Maroon is a colour adored by all women. But most of us do not consider it a colour perfect for office wear. This maroon cotton kurti with floral prints is perfect for those who love a shorter length. The kurta is made from soft cotton fabric that is gentle on the skin and keeps you comfortable all day long. The maroon colour and floral print add a touch of elegance and sophistication to your office attire.
Plus Size Cotton Block Print Blue Straight Kurta
Last but not least, our blue plus size cotton straight kurta is truly a masterpiece when it comes to office wear. The kurta features a stunning block print that enhances the beauty of this kurta. It is made of pure cotton fabric, making it super comfortable to wear for longer periods. The kurta features side slits, a round neck, and three-fourth sleeves for a classy fit. Pair it with white leggings and flat sandals for a classy office look.
CONCLUSION
In conclusion, we can say that plus size kurtis are a great choice for those who actually want to stay comfortable and chic at the office. With a wide range of styles, colours and prints to choose from, Swasti Clothing's plus size cotton kurtis collection has something to suit everyone's taste and style. So, go ahead and add these comfortable and chic kurtis to your wardrobe today!