Exploring the Best Ethnic Wear Options for Shivratri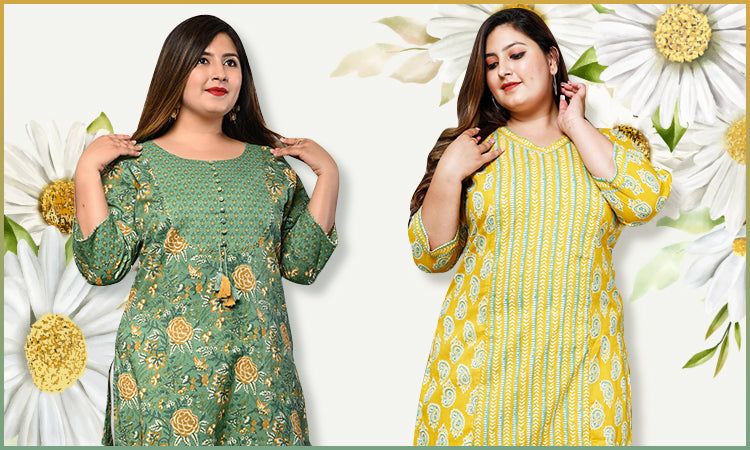 Festivals are a true reflection of the vibrancy of the culture and heritage of a nation. While there are many festivals we celebrate during the post-spring season, today we will be discussing the day of spiritualism and devotion, Shivratri. Shivratri, the auspicious festival dedicated to Lord Shiva, is just around the corner. This is one of the festivals when people pray and prefer to follow certain instructions and rules while performing rituals. Dressing up in ethnic wear such floral print kurta or any other ensemble is one of them. So, if you are wondering about what to wear this Shivratri, then Swasti Clothing's collection got you covered. The collection specifically caters to the requirements of curvy women when it comes to traditional clothing.
Best Ethnic Wear Kurta for Shivratri Celebrations:
Plus Size Green Cotton Floral Print Straight Kurta
One of the top picks from our collection is the plus-size green cotton floral print straight kurta. Made from soft and breathable cotton fabric, this kurta features a beautiful print in shades of green. The best part about this kurta is its straight silhouette and comfortable fit, which makes it a perfect choice for those who actually prefer a more relaxed yet stylish look. Pair it with matching leggings or palazzos, and you will be all set to shine this Shivratri.
Plus Size Green Cotton Floral Print Short Kurta
If you are looking for something a little shorter, then you have to check out our plus-size green cotton floral print short kurta. The kurta is perfect for those who actually want to show off their legs and embrace a more flirty and playful look. The solid-hued green cotton fabric with a subtle floral print gives it a refreshing and vibrant appeal. The short length of the kurta adds a modern twist making it ideal for a daytime Shivratri celebration. Style it with jeans or jeggings for a comfortable and trendy fit.
Plus Size Green Cotton Blend Embroidered Anarkali
Want to go all out and make a grand entrance at the Shivratri celebration? If yes, the plus-size green cotton blend embroidered Anarkali is the perfect choice. This stunning Anarkali kurta features intricate embroidery over the neckline and hemline, making it a masterpiece. The flared silhouette, dark green hue, and floor-length design give it a regal and majestic look, perfect for festive occasions like Shivratri.
Plus Size Rose Floral Print Green Straight Kurta
Sometimes simplicity wins the race, and that's what our plus-size floral print straight kurta has in for you. The sophisticated rose floral print on the green background adds a touch of femininity and elegance to this kurta. The straight silhouette and three-quarter sleeves give it a classic and contemporary look, making it suitable for both casual and formal occasions. Pair it with statement earrings and white trousers, and you are all ready to make heads turn this Shivratri.
Plus Size Maroon Cotton Blend Printed A-Line Flared Kurta
Last but not least, our plus-size maroon cotton blend printed A-Line kurta can also be a great choice for Shivratri. This stunning floor-length A-line flared kurta is designed to impress with its unique pattern print all over the kurta. It is crafted using a high-quality cotton blend fabric, making it super soft and breathable to wear for longer periods. The A-line flared silhouette flares gracefully, giving you a regal and elegant appearance. Team it with statement jewellery for a stylish look.
Takeaway!
In conclusion, the Shivratri celebration is a divine occasion when you must be adorning yourself in beautiful ethnic wear. So, if you are looking forward to wearing any beautiful ethnic kurta this Shivratri, you must check out Swasti Clothing's collection of ethnic wear. Embrace the elegant and vibrant appeal of ethnic prints and make a statement this Shivratri!