Why Kurta Sets Are the Perfect Fusion of Comfort and Style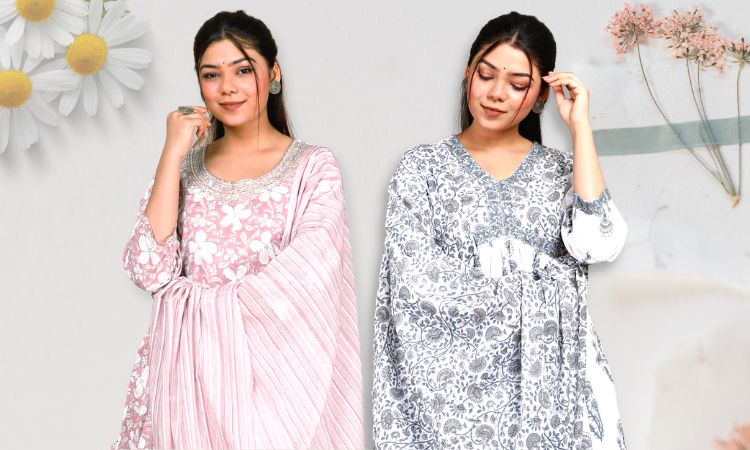 Are you looking to add something comfortable to your wardrobe? Finding the perfect balance between comfort and style can sometimes be a challenge when it comes to fashion. However, one clothing item effortlessly combines these two elements - the kurta set. For example, the traditional kurti set is an ongoing trend nowadays, and they are beautiful to pair with accessories.
Kurta sets have gained immense popularity in recent years due to their breathable comfort, versatile styles, vibrant colours and patterns, ease of maintenance, mix-and-match options, traditional and modern fusion, and sustainable choice.
From simple to heavily embroidered suit sets, you can find the perfect piece of ethnic wear for your wardrobe by narrowing down your preferences in terms of styles and designs along with the occasion. In this blog post, we will explore why kurta sets are ideal for those looking fashionable without compromising comfort.
Here are some of the reasons why kurtas are perfect:
Breathable Comfort:
Kurta sets are the best when it comes to providing comfort along with breathability. The breathability of kurta sets comes from the fabrics. They are made from lightweight and breathable fabrics such as cotton, linen, and silk; kurta sets allow for airflow, keeping you cool and comfortable even in hot and humid weather. The loose-fitting silhouette of the kurta provides the freedom to move around freely, which makes it an excellent choice for everyday wear or special occasion.
Versatile Styles:
The best thing about kurta sets is that they are versatile. They are available in various styles, making them suitable for various occasions. Whether you prefer a traditional or more contemporary look, a kurta set suits every taste and preference. The options are endless, from classic straight-cut kurtas to asymmetrical hemlines, from long floor-length anarkalis to shorty kurtas paired with palazzos or skirts. Additionally, you can opt for plus size kurta sets to fit your body size perfectly and bring out your personality.
Vibrant Colours and Patterns:
Another appealing aspect of the kurta set is its vibrant colours and patterns. From bold to bright hues to subtle pastel and earthy tones, you can find the perfect kurta set that suits your mood and complements your skin tone. Additionally, kurta sets often feature intricate prints, embroideries, or block prints, adding a touch of elegance and uniqueness to your ensemble. These vibrant colours and patterns make kurta sets an excellent choice for festive occasions or casual outings.
Ease of Maintenance:
Could you give too much time to maintain your kurta sets? It gets challenging to care for and maintain our ethnic wear, ensuring their durability and keeping their shape perfect. Most kurta sets are machine washable, making them convenient for everyday wear. Moreover, the quality fabrics used in kurta sets are known for their durability, ensuring that your outfit will last long with proper care. This easy maintenance makes kurta sets a practical choice for those who want to look good without spending too much time and effort on upkeep.
Mix and Match Options:
Mixing and matching Kurta sets offer endless mix-and-match options, allowing you to create multiple outfits with just a few pieces. Pair a kurta with jeans or leggings for a casual look, or pair it with a skirt or palazzo pants for a more formal event. You can also mix and match different kurtas with various bottoms and dupattas to create other ensembles each time. This versatility makes kurta sets a cost-effective choice as they can be worn differently, giving you more bang for your buck.
Traditional and Modern Fusion:
Kurta sets are perfect when it comes to finding clothes that are a blend of traditional and modern elements. This makes it a popular choice amongst fashion enthusiasts. While the kurta is a traditional Indian garment, it has evolved to incorporate contemporary designs, cuts, and embellishments. This fusion of traditional and modern aesthetics creates a unique and stylish, timeless and on-trend look. Whether you wear a kurta set to a wedding, festival, or casual gathering, you can make a fashion statement with this fusion of styles.
Sustainable Choice:
With the growing awareness of sustainable fashion, kurta sets have become a popular choice for eco-conscious individuals. Made from natural fabrics like cotton and linen, kurta sets are environmentally friendly and biodegradable. Additionally, many designers and brands focus on ethical production practices, ensuring fair wages and safe working conditions for artisans. By choosing a kurta set, you are making a fashion-forward choice and contributing to a more sustainable fashion industry.
Conclusion
Kurta sets blend comfort and style perfectly, making them an ideal choice for any occasion. Their loose and breathable fabric provides utmost comfort, allowing for easy movement throughout the day. Additionally, their versatile designs and patterns add a touch of elegance and charm, making them a fashionable choice. Swasti Clothing offers a wide variety of options in kurta sets with different prints, designs, styles, and sizes, allowing you to choose from their collection. Like, an ikat print kurta and many other prints to choose from.