Stylish Kurta Outfit Ideas for Independence Day Celebration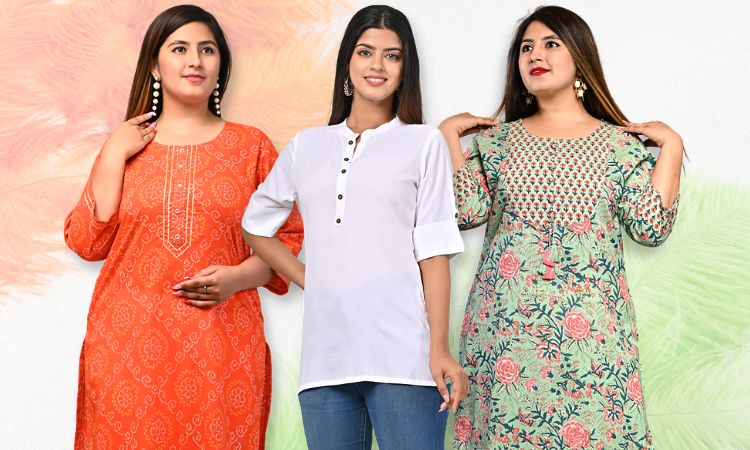 Independence Day is a significant occasion that fills every Indian's heart full with patriotism and pride. It is one special day when we all come together as a nation and celebrate our freedom and pay tribute to the sacrifices made by our great leaders. Schools, colleges, offices and other institutions make sure to celebrate this special day with full spirits and make sure this day is celebrated. And what better way t showcase the patriotic spirit than through our outfits?
Kurta is a traditional and versatile ensemble and is a perfect choice for such a traditional occasion. So, whether you are a college-going student or an office-going woman, here are some kurta options and style tips from Swasti Clothing that will help you make a fashionable statement while celebrating the spirit of freedom. This blog post will bring you some stylish kurta outfit ideas to inspire your Independence Day celebration ensemble. From a plus size kurta, to short and straight patterns, let's explore the selection together.
Traditional Kurtas To Adorn On Independence Day Celebration:
Green Cotton Blend Solid Short Kurta
Start your celebration for Independence Day on a stylish note with this elegant green kurta from Swasti Clothing. Made from a super comfortable cotton blend fabric, this solid Short kurta is a perfect option for a casual yet chic look. This versatile piece can be styled in multiple ways to match the freedom vibes. Its vibrant green colour represents the spirit of independence, while the short length adds a contemporary touch. You can pair white churidar pants with blue denim for a fashionable look.
White Cotton Blend Solid Short Kurta
In some offices and colleges, the management gives you a dress code of wearing white, especially for Independence Day celebrations. In that case, this plus size short kurtis is your best pick. The white colour signifies peace and harmony, and this kurta reflects just that. Crafted with a cotton blend fabric, this kurta features a contemporary design that will keep you looking elegant. The best part? Its simplicity lets you enjoy a wide range of accessorizing ideas you can implement. From adding traditional Indian jewellery to adding a tri-colour scarf or dupatta, it is one great option for your celebrations.
Blue Cotton Leheriya Print Short Kurta
Now, if you wish to add a touch of tradition to your Independence Day outfit, then this blue cotton leheriya printed short kurta is a must-have. The special leheriya print over the kurti adds a unique charm to this kurta, making it perfect for those who want to embrace their cultural roots while celebrating this national holiday. You can pair it with white colour or beige colour pants to let the kurta shine. Additionally, you must also team it with earrings and tricolour bangles to make it look perfect for freedom celebrations.
Red & Orange Zig-Zag Print Straight Kurta
Make a bold statement this Independence Day with this very stunning and striking red and orange printed straight kurta. The kurta is adorned with a zig-zag print that gives it an eye-pleasing look. This unique print makes it the perfect choice for those who want to embrace their cultural roots while celebrating this national freedom day. The vibrant colour combination and eye-catching design of this kurta are sure to make you stand out from the crowd. Make sure you pair it with neutral colour bottoms and minimal accessories to let the kurta take the front seat in looks.
Green Floral Print Straight Kurta
Another kurta you can get your hands on for a unique independence day ensemble is this Green Floral Print straight kurta for women. This is one must-have kurta for someone who loves floral prints and straight silhouette patterns. The delicate floral pattern adds a touch of elegance to this kurta, making it ideal for a daytime celebration. Moreover, the unique shade of green lets you immerse yourself in patriotic feelings. And it also matches the aesthetic of our nation's flourishing landscapes.
White Cotton Blend Embroidered Straight Kurta
Last but not least from Swasti's picks is the very stunning white cotton blend embroidered plus size kurta sets. It is perfect for someone who loves intricate details. The kurta features beautiful embroidery on the neckline that adds a sophisticated and graceful look to it. The best part? It is perfect for those curvy women as it comes in plus-size fashion, and due to its versatile colour, it is easy to style it in your choice. Whether you want to add a tricolour dupatta or a simple solid dupatta, this kurta will sit perfectly for your independence day celebrations look.
Key Takeaway!
All these stylish kurta outfits are available at Swasti Clothing. We pride ourselves on offering high-quality clothing that combines traditional elements with contemporary designs. Whether you are attending a flag-hoisting ceremony or celebrating with family, these outfits will ensure you look your best on this special day. Remember to accessorize your outfit with patriotic accessories like tricolour bangles or an Indian flag lapel pin to complete the Independence Day look. Show your love for the nation and celebrate the spirit of independence with Swasti Clothing's stylish kurta outfits.