Must-Have Bottom Wear Pieces for a Stylish Wardrobe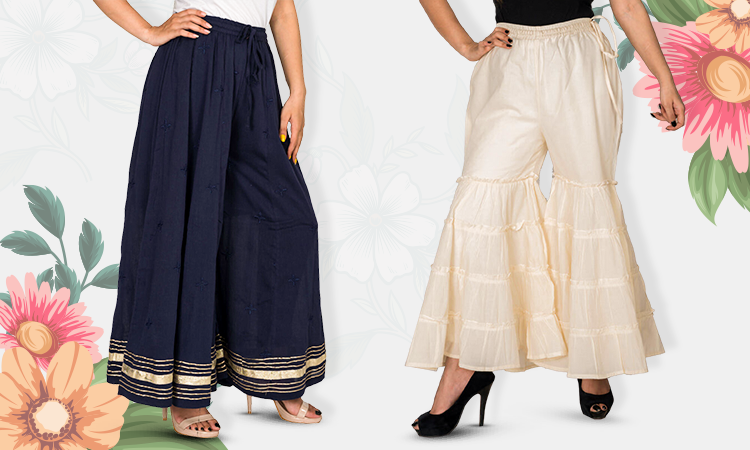 When it comes to building a stylish and versatile wardrobe, having the right bottom wear pieces is quite essential. Gone are the days when things were just about pairing in pair, the present generation mix and match various tops and bottoms. This is the prime reason having a wide variety of stylish bottom wear is also imperative. After all, the right bottom wear pieces can really make the difference.
Now, if you are worried about your bottom wear collection and find it boring, then fret not. Whether you are looking for something trendy, versatile or simply comfortable, Swasti Clothing has got you covered. With their wide range of trendy bottom wear options, you can easily create an umpteen outfit possible for any occasion. So, let's dive into the must-have bottom-wear pieces and elevate your style game.
Bottom Wear Pieces You Must Have In Your Wardrobe:
White Cotton Flared Sharara
There's something effortlessly chic about a white flared sharara. This specific bottom wear exudes elegance and adds a touch of uniqueness to any outfit. Crafted using high-quality cotton fabric, this white flared sharara is stylish and super comfortable. You can easily pair it up with your favourite kurta or a trendy crop stop for a stunning indo-western look that is perfect for every occasion. The best part about having white bottom wear is its versatility. It goes perfectly well with all tops or kurtis of any colour.
Pink Cotton Leheriya Print Flared Palazzo
How about embracing the vibrant colours of summer in your bottom-wear wardrobe? If yes, then Swasti Clothing's pink cotton leheriya print flared palazzo is a must-have. The unique and playful leheriya print gives these palazzos a trendy and bohemian vibe. The print, fabric, and style altogether make this printed flared palazzo perfect for both casual and festive occasions. Its flared silhouette ensures comfort and style for most body types. Just pair it with a solid-coloured top and some statement accessories for a trendy and chic look.
Off-White Cotton Straight Pants
Looking for a versatile bottom wear option that you can dress up as occasion wear or dress down as stylish night wear? If yes, then these off-white cotton straight pants are your best available option. The classic and timeless design makes these straight pants a must-have for every fashion-forward individual. Whether you are heading to the office or going out for a dinner, or brunch date, these pants will surely keep you looking stylish and sophisticated. Simply pair it with your favourite kurti or top or anything you like. The best part? You can also turn it into comfy loungewear by pairing it with your favourite tee.
Yellow Cotton Flared Palazzo
If you want to experiment with colours in your wardrobe, then the yellow cotton flared palazzo is a perfect choice. These palazzos add a pop of colour and brightness to your wardrobe. The flared silhouette adds a touch of drama, making it a super stylish choice of bottom wear for any occasion. The bright yellow colour of the palazzos is perfect for those sunny days when you want to stand out from the crowd. It is a versatile piece that can be dressed up or down as per your choice or occasion mood.
Blue Poly Crepe Blend Flared Palazzo
Last but not least, Swasti Clothing's Blue Poly Crepe blend flared palazzo is an amazing bottom wear option you must have. The lightweight poly crepe fabric ensures breathability, while the flared silhouette adds a touch of elegance. These palazzos are perfect for those long summer days and stylish nights out. It has a unique flared design adds a touch of femininity and sophistication to any outfit. Whether you pair it with a solid white kurti or some quirky top, this will surely fit your needs.
CONCLUSION
In conclusion, having a stylish wardrobe is incomplete without having these must-have bottom wear pieces from Swasti Clothing. The wide range of options offered by the brand cater to every fashion preference. From flared shararas to printed palazzos, our collection ensures comfort, style, and versatility. So, upgrade your wardrobe with these must-have pieces today and embrace your stylish side with Swasti Clothing's trendy and chic bottom wear collection.