How to Wear Plus Size Short Kurtis in Different Seasons?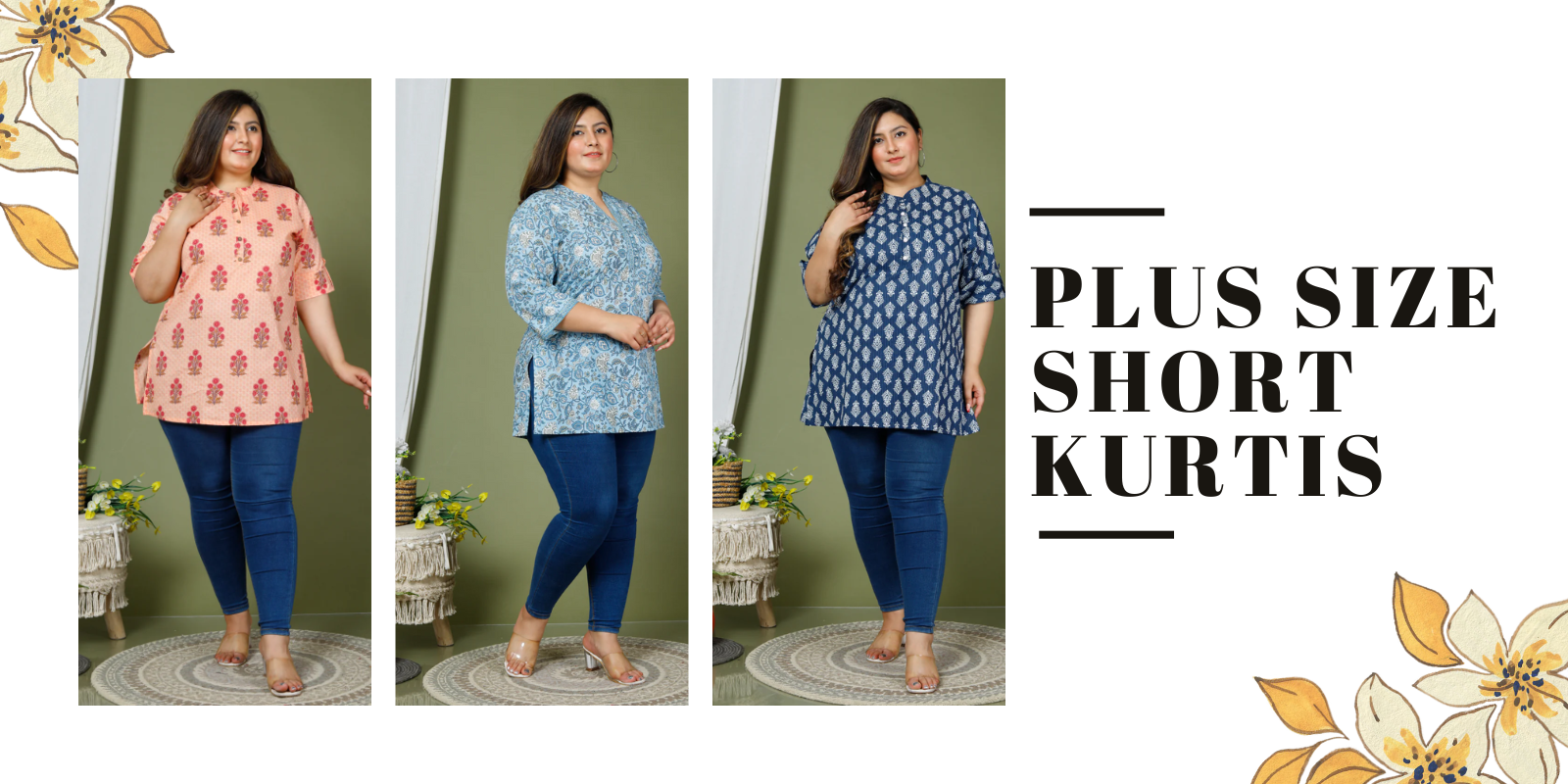 Short Kurtis are a great way to add a bit of style and sophistication to any wardrobe. Plus-size women have long been overlooked when it comes to stylish clothing options, but short kurtis are perfect for plus-size women as they provide plenty of coverage while still allowing them to show off their curves. In addition, plus size short kurtis come in a variety of styles and fabrics, so there is sure to be something to suit everyone's individual style. Here are a few great ways to wear your short kurtis in different seasons.
Top Ways to Style Your Plus Size Kurtis in Different Seasons
Pair Your Plus Size Short Kurti With Jeans:
Short Kurti with Jeans is a classic look that always stays in style. Pairing a plus size short kurti with any of your favourite jeans is also one of the most popular ways in recent times. You can opt for our patterned kurti to add a bit of flair to your outfit. With the arrival of this winter, you don't have to put away your love for short kurtis as this pairing style of jeans and short kurti is best for winter.
Style Your Short Kurti With Leggings:
Swasti Clothing's short kurtis are a great way to stay comfortable and stylish in the summer as well. So, you can opt for any of our plus-size short kurti with leggings in the summer. Leggings are a great way to add a bit of comfort to your outfit. For this beautiful pairing, opt for a solid-coloured kurti for a sleek look or a patterned kurti from our vast collection of plus-size kurtis.
Try Pairing Your Short Kurti With Palazzos:
During the monsoons, you'll want something light and comfortable. So, Swasti Clothing's plus-size short kurti in a bright, cheerful print is the ideal choice. Next, choose something with floral elements to add a pop of colour and pair it with a palazzo. A short plus-size kurti with palazzos is a great way to make a simple kurti look more stylish.
Dress Up Your Short Kurti With Harem Pants:
Short Plus size kurtis with harem pants are the best for an effortless, boho-chic look. Opt for a solid-coloured kurti or a patterned kurti to add a bit of flair to your outfit. For the cooler days of autumn, this combination of a plus-size short kurti in a dark, neutral colour with harem pants is just perfect. You can wear this combination of pant kurta set to various events and parties and make a stylish statement.
Combine Your Short Plus Size Kurti With Skirts:
One of the best pairings for a short plus size kurti is with skirts. The transitional weather in pre-fall is perfect for layering, and hence this style is perfect for pre-fall. The kurti and skirt will keep you a little warm as the season demands and make you comfortable and breathable all day. Moreover, your short kurti with a skirt will fetch you so many compliments.
Put Together Your Short Plus Size Kurti and Dhoti Pants
Get a floral print or patterned kurti for yourself and pair it with dhoti pants and a shrug. The combination of a floral kurti, shrug, and dhoti pants is perfect for spring. Dhoti pants are a great way to dress up a short kurti and are a perfect option for a more laid-back look. You may also throw on some sandals and a scarf to complete the look.
Conclusion
By following the above-mentioned tips, plus-size women can easily wear short kurtis in various seasons. With the right fabric and colours, you can create a look that is not only stylish and trendy but also comfortable and flattering to your figure. Furthermore, by taking into account the season, the weather, and your personal style, you can find the perfect short kurti that will make you look your best no matter what the occasion. So, opt for the mentioned styles in different seasons and slay like a queen.
Swasti Clothing is the ideal store for short plus size kurtis at an unbeatable price. Our collection of women's kurtis features a range of prints and styles, such as floral, anarkali, and leheriya prints. In addition, we have an array of kurtis for all women, so be sure to take a look at our vast selection.