Ways To Style Your Traditional Women's Kurta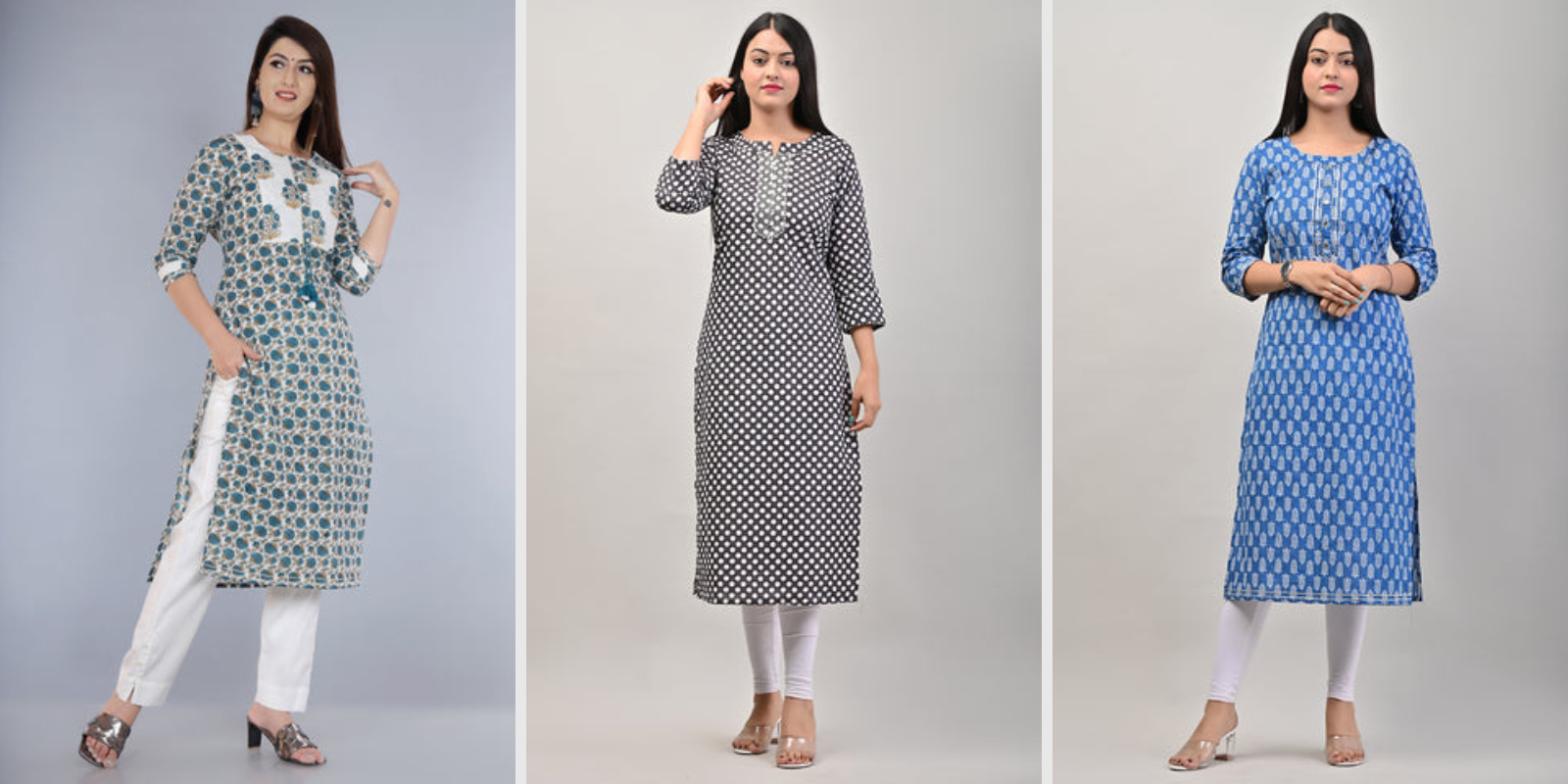 Traditional wear Kurtas for women need the proper styling and right layering for a standout look. The ethnic fashion industry has lately seen a drastic change in terms of prints, patterns, colours, fabrics, etc. Going away from the mundane styles, designers are now coming up with unique prints and patterns that are both comfortable and stylish. From choosing trendy prints, pairing the kurta with the right bottom, to completing the look with the right footwear and accessories, there are a number of ways to style your traditional kurtas. So, follow the below given tips to uplift your style in ethnic wear Kurta.  
Tips to Style Your Traditional Kurta
Go For Trendy Prints & Patterns
There are a variety of prints and patterns to choose from- florals, stripes, geometrics, ikat, and the list goes on and on. Thus, with a myriad of options available to you, how do you make the right choices when it comes to prints and patterns? Firstly, it is crucial to understand your personal style and the occasion to pick the right prints.  If you prefer minimalism, then a straight kurti for women with small, delicate motifs like florals are for you. 
Moreover, you also need to consider the occasion for choosing the right print. For instance, if you are looking for daily wear kurtas to wear at work, subtle prints like fine geometric prints, polka dots, or digital prints are more preferable. Similarly, for wedding or festive occasions, heavy traditional designs or prints are well-suited. Make sure to pick a print that is flattering for you and perfectly matches with the vibes of the occasion.
Slay Your Bottom Game
Wearing the right style of kurta doesn't complete your outfit, pairing it with the right bottom does! Indian ethnic kurtas can be teamed with a variety of bottom styles. The right bottom style that compliments your figure can enhance your ethnic look dramatically. There is a wide assortment of fashionable bottoms including palazzos, straight pants, shararas, and trousers. Select the correct bottom wear that not only complements your kurta style but also suits your body type. For instance, straight fit pants make an excellent choice for a pear-shaped body. 
With umpteen number of trendy choices, find the perfect bottom wear to elevate your kurta style.You can pair short women's kurtas with upbeat denim jeans or contemporary shararas. Slit kurtis look great when paired with solid leggings or flowy palazzos. Additionally, you can club your straight or Anrakali kurta with straight pants. 
Right Fit & Colour Matters
Though most people overlook these factors when buying kurtas, the right fit and colour equally matter for an appealing look. The truth is that the fit of your kurta can make or break your look. It is important to ensure that your kurta fits you perfectly. This not only helps to accentuate your body shape in the right places but also allows for the proper breathability and body movement. Besides, not to forget all the confidence that comes with a well-fitted outfit. Too tight or too loose fit can jeopardize the beauty as well as the comfort of the attire. 
Apart from the fit, you should also focus on the colour contrasts of your kurta set. Ethnic wear kurtas come in plenty of different hues. Remember that the colour of your outfit defines your mood and the mood of the occasion. For formal occasions, opt for casual kurtas rendered in simple colours. A sophisticated black straight kurti is an apt choice for office wear. For night occasions like parties or weddings, you can pick dark yet warm shades like blue, purple, green etc. 
Style With Perfect Footwear
People usually focus more on outfit and ignore footwear. Choosing the right footwear is important, especially when it comes to Indian wear. For a stylish and confident look, your footwear should complement your attire. From traditional juttis, mojris, flats, and kolhapuris to voguish heels, mules, bellies, stilettos, and wedges, there are a plethora of choices. 
For a formal look, you can complete your attire with flats or platform heels. People often team up their ethnic wear kurtas with juttis or mojris for traditional occasions. For events like weddings, mules and pumps make great options. Moreover, low heels are more preferred when it comes to comfort. No matter what footwear you pick, make sure it matches with the tone of your outfit and adds more style to your ethnic look. 
Opt For Minimalism
Accessorizing is a great way to style your ethnic wear kurtas. When it comes to ethnic wear, one of the best practices is to adopt minimalism. Go for minimal yet bold jewellery pieces such as statement earrings. For formal or casual occasions, style your outfit with simple and elegant jewellery pieces instead of heavy or gaudy ones. However, for festive or special occasions like weddings, heavy pieces are more preferred. 
So, pick the right accessories and jewellery pieces as they impact your overall look. Moreover, make sure that your footwear and accessories are in sync with the attire. You can further accentuate your look with a glamorous clutch or handbag. Besides, minimalism should also be followed while doing makeup. Over the top makeup or accessories can ruin your look. 
In Conclusion
So, create your own unique style every time you plan to wear a traditional kurta and flaunt it with confidence with the useful tips mentioned above. These styling tips will let you achieve an ideal look that you want. 
However, before following these styling tips, you need fashionable traditional kurtas. Swasti Clothing is your one-stop shop to find an exclusive range of women's printed kurtas, kurta sets, and bottom wear. Visit the website to explore the well-curated collection.