The Latest Trends in Plus Size Kurtis For 2023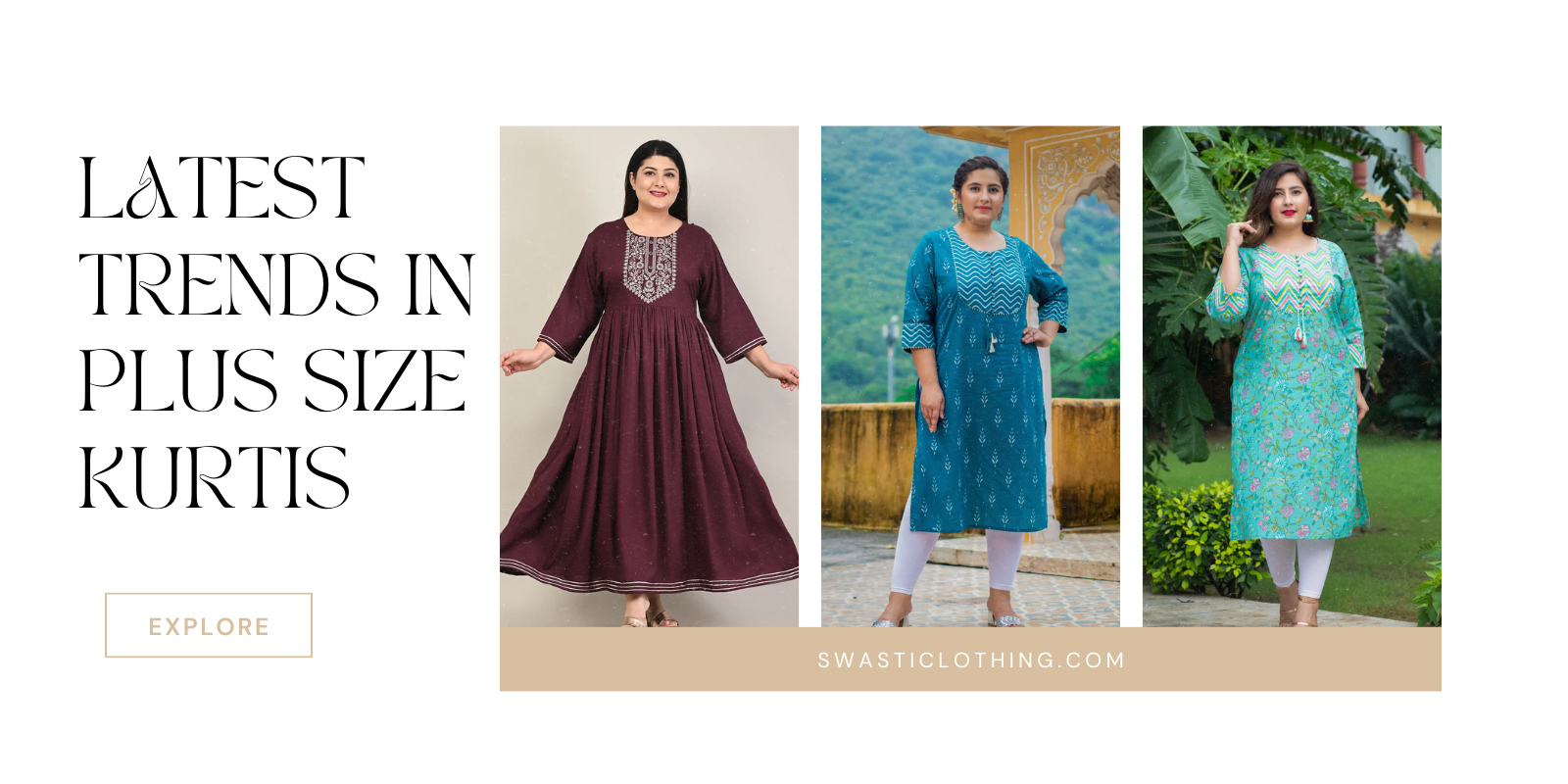 Body positivity and inclusivity in the fashion world have paved the way for plus-size outfits to become the norm. Plus-size latest kurti set for ladies are gaining attention due to their versatility and comfort. From regular to casual wear, there's a wide range of designs and patterns available for curvy women. With that in mind, here are some of the latest models and styles in plus-size kurti for you to take a look at! We're sure you'll find something that will add to your wardrobe collection.
Top Trending Styles in Plus Size Kurtis You Need To Know
Swasti Clothing's Floral Print Plus Size Kurti
Let us not overlook the timeless floral print kurtis for plus-size women, either. Swasti Clothing offers a wide assortment of floral print kurtis in plus sizes. Our floral kurti designs radiate festive and ethnic vibes with their simple yet chic style. All of our kurtis are made from high-quality fabric that is sure to keep you looking and feeling your best. Moreover, with its sophisticated designs and superior comfort, you'll be sure to love your new wardrobe addition.
Exceptionally Comfortable Cotton Plus Size Kurti
Enjoy the confidence that comes with wearing cotton plus size kurtis from Swasti Clothing. Our plus-size cotton kurtis are designed to give you a timeless yet stylish look. With a wide range of kurtis available in cotton fabric, you can easily upgrade your appearance. Swasti Clothing's kurta collection is perfect for women of all ages who want to stay on top of the fashion game. Try out our plus size cotton kurtis today, and instantly light up your look!
Chic Ikat Print Straight Cut Plus Size kurti
The ikat print is a great way to make a statement with your wardrobe. This trend has been around for a few seasons now, and it's sure to be one of the hottest looks for 2023. Swasti Clothing's ikat print kurtis are the perfect choice in that case. Discover our selection of ikat print kurtis in plus sizes. With our varied options, you're sure to find one that suits your style!
Pretty Embroidered Plus Size kurti From Swasti Clothing
Add a few eye-catchy embroidered kurtis to your favourite and stay ahead of the trends. Women adore intricate and beautiful patterned outfits, and embroidered kurtis are one of the most popular choices. At Swasti Clothing, we understand this and offer a wide variety of embroidered kurtis to suit all occasions - from parties and events to office looks. In addition, our specially crafted embroidered kurtis in plus sizes are tailored to perfection.
Simple Yet Beautiful Anarkali Style Solid Gown Kurti
Swasti Clothing's Anarkali Kurtas are the perfect blend of timeless style and modern trends. Our unique designs feature a variety of prints, patterns, and fabrics to make sure you look your best for any occasion. So whether you're looking for something to wear to a party or just for every day, our Anarkali Kurtas can be dressed up or down to fit any occasion. With a wide array of colours, styles, and designs, you're sure to find something that you love. Shop our collection of plus-size Anarkali Kurtis today and experience the timeless beauty of our classic designs.
Conclusion
These are the latest trends in oversized kurtis for 2023, and there are plenty of gorgeous and stylish options to choose from! So whether you're looking for something to wear to a special occasion or just to add some stylish flair to your everyday wardrobe, there's something that will be perfect for you. So don't be afraid to experiment and try something new this year!
Swasti Clothing is a fashion brand dedicated to providing the latest and greatest plus-size clothing for women of all shapes and sizes. Their collection of kurtis is made from high-quality materials and comes in a variety of styles, colours, and designs. So, explore their latest collection and start shopping!