The Perfect Summer Kurtis for Busy Moms on the Go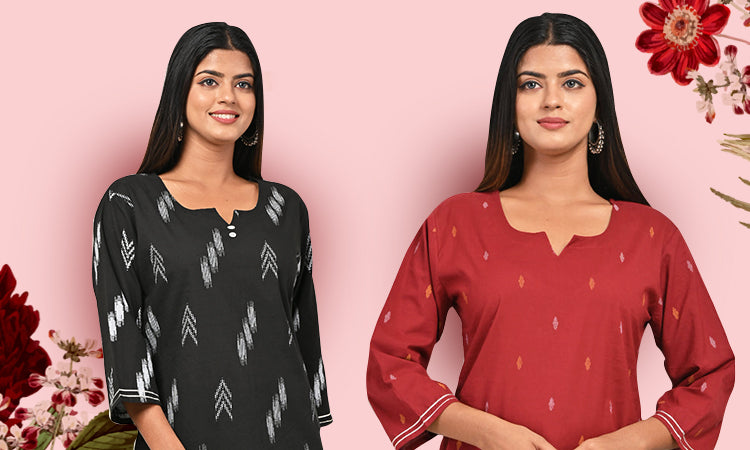 Summer is here, and for busy moms, it's all about finding the perfect balance between style, comfort, and practicality. As temperatures rise and schedules get packed with activities, the quest for the ideal summer outfit becomes even more crucial. That's where kurtis come in.
For example, how would you like to style a black short kurti for women with different bottoms for a stylish yet easy-to-carry look? From breathable fabrics to functional designs, we will discuss the key features to look for when selecting the perfect summer kurti. Therefore, We understand that being a mom is a full-time job, and finding the time to assemble a fashionable outfit can be challenging.
We have curated a collection of kurtis that provide the perfect summer flair and offer practicality and ease of wear. In this blog, we will dive into the world of summer kurtis and explore the various options that cater specifically to the needs of busy moms.
Anarkalis
1. Breathable Fabrics: Anarkalis, made from lightweight and breathable fabrics like cotton, chiffon, or georgette. These fabrics allow air circulation and prevent you from feeling suffocated or uncomfortable in the summer heat. Finally, Busy women can stay cool and fresh throughout the day while attending to their responsibilities.
2. Comfortable Fit: Anarkalis are known for their loose and flowing silhouette, which provides a relaxed and comfortable fit. They don't cling to the body, allowing for ease of movement and preventing any feelings of restriction. This comfort is essential for busy women who are constantly on the go and must perform various tasks efficiently.
3. Timeless Elegance: Anarkalis exude timeless elegance and grace. They have a regal and sophisticated appeal that instantly elevates the wearer's look. Also, Busy women can feel confident and put-together even in their hectic schedules, as Anarkalis effortlessly add a touch of glamour and style to any ensemble.
Short Kurta
1. Breathability: Short Kurtas, designed to have a shorter length, typically ending around the mid-thigh or slightly above the knee. This shorter length allows for better airflow and ventilation, keeping the body cool and preventing overheating during hot summer days. For example, a black short kurti for women would look elegant and bring out a stylish personality to wear at your workplace.
2. Modern and Fashionable: Short Kurtas are often designed with modern and trendy patterns, prints, and embellishments. They come in various colours and styles, catering to different fashion preferences. Theref0re, This makes them a fashionable choice for busy women who want to look stylish and up-to-date with the latest trends.
3. Low-Maintenance: Short Kurtas are generally easy to care for. Made from lightweight and easy-to-maintain fabrics like cotton or linen, which are breathable and easily washed and dried. Finally, This makes them a convenient choice for busy women who only have a little time for complex garment care.
A-line Kurta
1. Easy to Wear: A-line Kurtas have a loose and relaxed fit, making them easy to slip on and move around. They don't restrict movement or feel tight, allowing busy women to go about their daily activities quickly. Finally, a busy women would want to opt for options that are easy to wear and style.
2. Versatile Style: A-line Kurtas come in various lengths, from short to long. Depending on the occasion and personal preference, one can pair them with different bottom wear like leggings, palazzos, or jeans. Also, This versatility makes them suitable for both casual and semi-formal occasions.
3. Suitable for Work and Casual Wear: A-line Kurtas balance formal and casual attire. They can be dressed with accessories like statement jewellery or a dupatta for a more professional look or kept simple for a relaxed, everyday outfit. Therefore, the suitability of the kurti makes them ideal for busy women who need an outfit that transitions seamlessly from work to other engagements.
Straight Kurta
1. Comfort and Breathability: Straight Kurtas are known for their relaxed and comfortable fit. They have a straight silhouette that loosely skims the body, allowing air to circulate freely and keeping the wearer cool and comfortable in hot weather. Therefore, Often made of lightweight and breathable fabrics like cotton or linen, which enhance their comfort level.
2. Professional Appearance: Straight Kurtas offer a modest and professional appearance, making them suitable for work environments. Style them to maintain a polished and presentable look while providing comfort during busy workdays. For example, A Floral Print Straight Kurta would please your personality, and you can add a dupatta to look more elegant for your workday.
3. Cooling Effect: The loose fit of Straight Kurtas allows for better airflow, which helps in keeping the body cool and prevents perspiration. This cooling effect is particularly beneficial during hot summer days, as it helps maintain comfort even in high temperatures. Keeping yourselves at a cooler temperature during the hot summer days is essential. Finally, The heat might be irritating to you and your skin.
Conclusion
Kurtis is the perfect choice for the summer season, and a printed short kurti would be an ideal choice for busy moms on the go during the summer season. Other than this, different styles of kurtis are comfortable, stylish, and versatile, making it easy for moms to transition from day to night. Swasti Clothing is an online shopping store for all your ethnic needs in one place, categorised into styles, patterns, dupatta and pants sets, and buttons of your choice. Therefore, The various prints and designs available in the market cater to different preferences, making it easier for moms to find the perfect one that fits their style.