Must-Have Swasti Clothing Kurtas for Rakshabandhan Wardrobe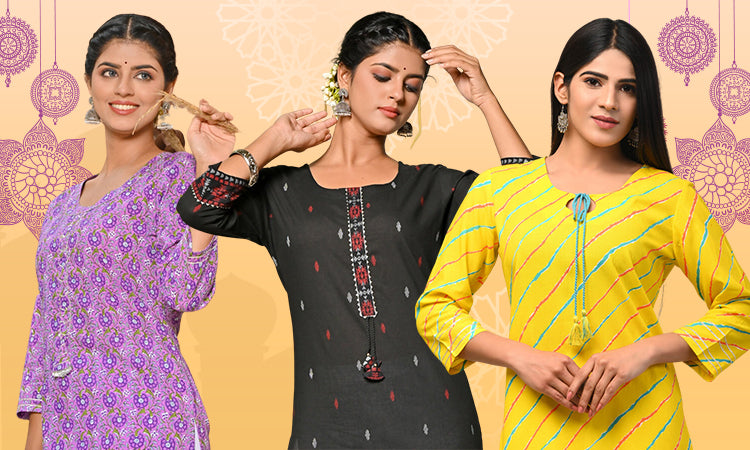 As the festival of Raksha Bandhan is approaching, it is time to celebrate the bond a brother and sister hold with each other. It is a time of joy, love, and festivities to share their love for each other. Do you want to dress up in style for the special occasion? From various options, ethnic wear is the best to give you a traditional yet classy look for the day.
How would you like to buy a straight kurta for women? Straight kurtas are the best, giving your attire an entire look when paired with the right accessories. There are many other styles you can choose from according to your preferences and body shape.
From heavily embellished kurta sets to something simple and bold, you can always find the best suit set to style for the day. This blog post explores the different prints in a straight kurta set to opt for.
Here are five different kurtas for the festival:-
1. Black Cotton Ikat Print Straight Kurta:
Black has always been our colour, and nothing beats the elegance and ethnicity of the colour Black. Also, any style or design in black looks fantastic. Make yourself stand out when paired with accessories matching the texture of the kurta. How would you like to wear a black cotton kurta in a beautiful ikat print kurta? The straight cut and the intricate print of the kurta make it a versatile piece that can be styled in various ways. Also, the kurta will make a statement if you pair it with leggings, palazzos, or even jeans. Therefore, add a pair of oxidised earrings to the kurta set to complete the traditional look.
2. Purple Cotton Embroidered Straight Kurta:
Purple is a royal colour that is loved and adored by everyone. And how would you like to add some royal touch to your ethnic wear on an important festival that celebrates the special bond of a brother and sister? Embroidered kurtas are the best in adding a touch of elegance and sophistication to every outfit. Also, the intricate embroidery work on the neckline and sleeves adds a traditional yet contemporary touch to the kurta. And, this cotton straight kurta is perfect when paired with watching jewellery options in earrings, a choker necklace, bracelet or bangles, and a ring. Therefore, this kurta is ideal for those who want to make a style statement while keeping things elegant.
3. Blue Cotton Floral Print Straight Kurta:
Who isn't fond of floral prints? Floral prints are loved and adored by everyone because they are always in fashion and trending. The delicacy of the prints makes them perfect for every fashion enthusiast. And they are a must-have in their wardrobe collection. Floral prints would look the best when paired with the right type of accessory. They can create a look that highlights your look in a sophisticated and elegant way. How would you like to wear a plus size kurtis for ladies in a straight kurti style? The soothing blue colour and the comfortable cotton fabric make it perfect for the festive season. Therefore, air it with white palazzos or leggings for a fresh and vibrant look.
4. Maroon Cotton Zig-Zag Print Straight Kurta:
Maroon is a rich colour that will make heads turn, featuring a unique printed straight kurta. The colour of the kurta, along with a contemporary print, would make the perfect combination and a fantastic choice for Raksha Bandhan festivity. The colour looks perfect when paired with silver jewellery. Dress it up with statement accessories, and you're ready to make a lasting impression. Pair your maroon kurti with simple bottoms like leggings, jeans, or a palazzo.
5. Yellow Cotton Leheriya Print Straight Kurta:
If you are looking for vibrant shades to embrace the festival's spirit, adding a yellow leheriya print would be the best option. The bright and cheerful yellow shade will surely uplift your spirit and bring positivity to your environment on an auspicious occasion. Add some small pieces of jewellery to your kurta with a necklace set that is simple and elegant to complete the look. Pair it with white or blue leggings to create a stunning contrast.
Conclusion
Incorporating Swasti Clothing straight kurta for women or any other style of your choice into your Raksha Bandhan wardrobe is a must. These kurtas not only showcase traditional Indian craftsmanship but also exude elegance and charm. With their vibrant colours, intricate designs, and comfortable fabrics, they are perfect for celebrating this special occasion with style and grace. Whether you choose a classic kurta or a contemporary fusion piece, Swasti Clothing Kurtas will undoubtedly add a touch of sophistication to your festive ensemble. So, make sure to include these must-have kurtas in your Raksha Bandhan wardrobe and create a fashionable and culturally rich statement.