How to Accessorize Your White Kurti for a Glamorous Look?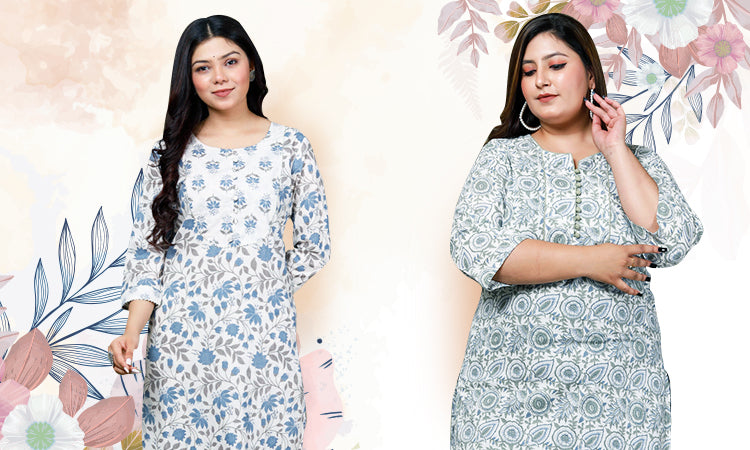 White is an everlasting and timeless hue that never loses its charm. Moreover, white is a flexible colour that can be matched with nearly anything, which ultimately makes it an ideal selection for a Kurti. A women's white Kurti can be either dressed up or down for an enchanting look, depending on the event. Additionally, it is perfect attire for the summer season, as it is light in weight and breezy, providing you with both comfort and style throughout the day.
In addition, white women clothing kurtis can be matched with different clothing pieces to make an exceptional and fashionable fashion statement. You can comfortably combine the white Kurti with various garments like jeans, skirts, or even leggings to produce several distinctive looks. In addition, you can adjust the style of your white Kurti to suit the occasion, making it an ideal outfit for any event.
Elevate Your Look with These Must-Try Ideas for Your White Kurti
Pair Up Your White Kurti with an Embroidered Skirt
Fashion design trends today encompass a wide range of styles, from self-patterned fabrics to embroidery and solid colours. The key to pulling off a fashionable look is to master the art of mixing and matching your clothing combinations effectively. One such trend is the popular white kurti paired with an embroidered skirt. However, it is important to consider the length of the kurti according to your body type and the type of skirt you choose to wear.
A trendy and elegant outfit option is to team your white short kurta for women with a skirt. The combination of the kurta's short length and the skirt's flare creates a lovely, captivating appearance that is ideal for occasions with ethnic dress codes or celebrations.
Match Your White Kurti with Palazzos
Another latest fashion trend for young girls and women is wearing white kurtis with palazzo pants. Palazzo pants have a flared design that starts from the top and extends all the way to the bottom. And nowadays, white kurtis are in high demand, and these pants complement them perfectly. Palazzo pants are available in floral or solid colours in the market that match well with all kurtis, especially white ones.
These trendy flare pants can boost the confidence of even heavier women who want to show off their fashion sense. Flared palazzo pants are suitable for women with a variety of body types as they allow them to showcase their curves. So, If you happen to be a woman with a plus-size figure, don't worry! You can still rock a chic and flowy look for any event by pairing your plus size white kurti with some flared palazzo pants.
Rock Your White Kurti with Jeans
It is customary to pair white kurtis with jeans for both formal and casual events, which is preferred by many. Rather than opting for Western tops, most girls and young women prefer to don kurtis as they provide better coverage than Western tops. This adds an ethnic touch to the overall look, which is adored by Indian girls and women. Kurtis is much more attractive and stylish when compared to Western tops. Women who wear kurtis with trousers, denim or pants should be mindful of the length of the kurti.
Females with a plus-size figure should opt for kurtis that are long enough to cover their hips so that the heavier portion is not visible. It used to be a challenge to find kurtis that fit plus-size women perfectly, but now the search is over. You can easily purchase simple white kurtis, and kurti set online from premium stores at reasonable prices.
Combine Your White Kurti with Stylish Shrugs
Enhance your style game by incorporating a jacket into your white kurti at any function. A well-adorned jacket or shrug brings a contemporary edge to the classic white Kurti and elevates your whole look. For a timeless and chic appearance, pair a denim jacket with a white kurti. White kurtis are a beloved staple among women and girls of all ages for their versatility in both casual and formal settings while excusing confidence and sophistication.
White is a universally flattering colour that complements all skin tones, and when you combine it with a kurti, it becomes one of the most stylish garments of all time, creating an impressive and fashionable ensemble that is sure to turn heads.
Wrapping Up!
In conclusion, a white Kurti is a staple attire that we all should possess in our wardrobes. However, sporting it in the same manner repeatedly can become mundane and uninteresting. Therefore, to inject some variety and excitement into your outfits, check out Swasti Clothing's online store for its latest trends and unique clothing collections.
Furthermore, it's essential to highlight the significance of accessories when it comes to fashion. These above-mentioned tips aim to enhance your appearance even in a simple white kurti. By following these suggestions, you can effortlessly transform your traditional white floral kurta into a chic and contemporary outfit.
A classic white kurti is a wardrobe staple. If you already own one, it's worth upgrading to a more comfortable fabric. If you're wondering where to shop for it, look no further than Swasti Clothing. Their collection of white kurtis is perfect for accessorizing and achieving a unique, charming look.