The Best Floral Print Suit Sets that Steal the Spotlight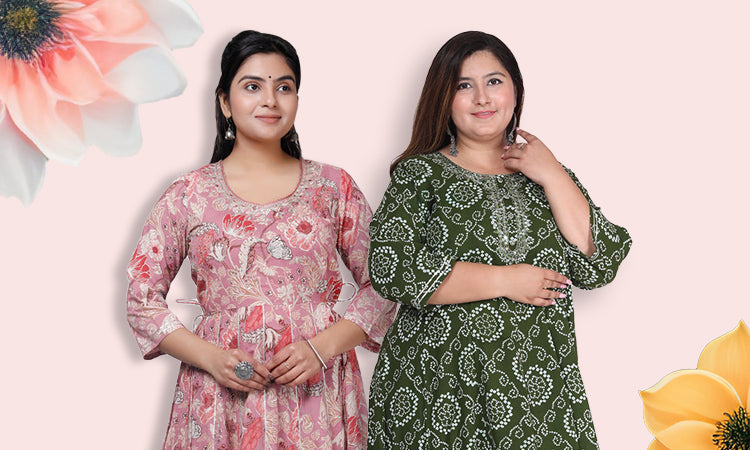 When it comes to fashion, we can't deny that floral prints have always been a timeless choice and almost a favourite for everyone. The effortless look and elegance they bring to the outfit are truly unmatched. The vibrant colours, intricate patterns, and feminine charm of floral prints make the pant kurta set an extraordinary outfit for every occasion. So, if you are on the hunt for the best floral print suit sets that are guaranteed to steal the spotlight in your ethnic wardrobe, then look no further than Swasti Clothing.
Swasti Clothing, a brand well known for its impeccable craftsmanship and attention to detail, presents you with a collection of beautiful floral print suit sets. The collection will surely leave you mesmerised. So, it's time to look closer at some of the most standout pieces from Swasti Clothing's collection.
Best Floral Print Suit Sets From Our Collection:
Purple Cotton Floral Printed Kurta Set With Dupatta
One of the first and most loved suit sets from the selection is the purple cotton floral printed kurta set with a dupatta. The set features a mesmerising floral print kurta that exudes elegance. Crafted in cotton fabric, this kurta set ensures you complete comfort while the beautiful hued matching dupatta adds a touch of sparkle to your overall ensemble. The suit set is just perfect for daytime festivities or casual outings. A must-have kurta set featuring mesmerising floral prints for every fashion-forward woman.
Grey Cotton Floral Printed Kurta Set With Dupatta
Many women actually love a more subdued colour palette, and for them, this grey-coloured floral printed suit set is a perfect choice. The suit set features a very subtle and delicate floral print, which adds a soft pop of colour, while the comfortable cotton fabric ensures all-day ease. This suit is perfect for working women and is also great if you are going out for a formal event. The suit set will surely elevate your style.
Pink Cotton Floral Printed Kurta Set With Dupatta
It is time to make a bold and beautiful statement with this stunning Pink cotton floral printed kurta set with dupatta. The elegant combination of vibrant pink colour with white floral print patterns all over the suit set creates a striking visual appeal. The best part? This suit set is crafted in comfortable cotton fabric, which ensures you a relaxed and fashionable look altogether. Just pair it with minimal accessories and let the suit set do all the talking and become the showstopper.
Turquoise Cotton Printed Embroidered Kurta Set With Dupatta
How about adding a unique colour suit set to your collection? Our Turquoise cotton floral printed embroidered kurta set with dupatta is a must-have. The beautiful combination of vibrant turquoise colour and delicate embroidery over the suit adds a touch of opulence to the ensemble. Moreover, the soft cotton fabric ensures your utmost comfort, making it perfect for any occasion. So, shop this suit set if you want to be the epitome of grace at any event.
Navy Blue Cotton Printed Embroidered Kurta Set with Dupatta
Last but not least, in our floral printed pant kurta set collection, you will find the very beautiful embroidered suit set with a dupatta in Navy blue colour. The deep blue hue combined with the intricate embroidery creates a captivating and regal look. Crafted from high-quality cotton fabric, this beautiful suit set guarantees a comfortable and stylish fit. So, it's time to revel in the attention you receive after adorning this suit set.
Key Takeaway!
Swasti Clothing takes pride in creating fashion-forward pieces that empower women to embrace their unique style. Each floral print suit set is thoughtfully designed to make you feel confident, beautiful, and ready to conquer the world. Whether you prefer vibrant colours or subtle shades, Swasti Clothing has the perfect floral print suit set to suit your taste and personality.
So, why wait? Add a touch of elegance and grace to your wardrobe with these exquisite floral print suit sets from Swasti Clothing. Let your style steal the spotlight and make a lasting impression wherever you go. Embrace the beauty of nature and showcase your impeccable fashion sense with these mesmerising ensembles.