How to Choose the Perfect Print for Your Plus Size Kurta?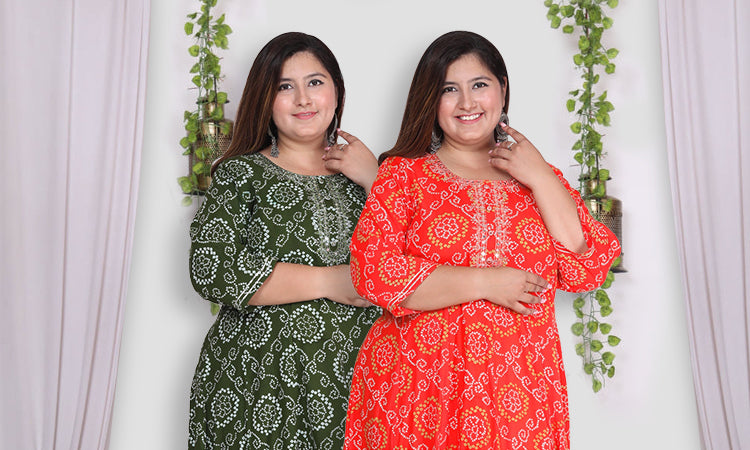 It's all about embracing your unique style when it comes down to finding the perfect print for your kurta, especially if you are a plus-size woman. It's more about finding designs that flatter your curves and make you look confident in your own figure. As we all know, that market is brimming with so many prints on kurtas out there. There's a new print every day, from bandhani kurtaprints and ikat prints to leheriya and many more.
Swasti Clothing, we completely understand the importance of finding a suitable print that only enhances your confidence but also complements your body shape. So, today, in this blog, we will walk you through the key considerations and provide you with some valuable tips that will help you select the perfect print for your plus-size kurta.
Choosing The Perfect Prints For Your Plus Size Kurtas:
Consider Your Body Type
One of the first steps in finding the perfect print for your kurtas, especially when you have a curvy body, is to consider your body shape. Plus size, women come in different shapes and sizes, and thus, it's important to select a print that flatters your curves. For instance, if you have an hourglass figure, then opt for prints that accentuate your waistline. Floral prints, geometric patterns, and vertical stripes are great choices.
individuals who have apple-shaped bodies, opt for prints that draw attention away from the midsection. Abstract prints and diagonal stripes can create an illusion of a more balanced silhouette. Lastly, if you have a pear-shaped body, then go for prints with bold designs on the upper half in order to balance out your proportions.
Find Prints That Suit Your Personal Style
While we know considering your body shape is essential when buying a plus size kurta. But it's equally important to select prints that suit your personal style or sense of fashion. After all, prints are a great way to showcase your unique personality and style. Whether you prefer floral prints, abstract designs, or classic patterns, we have something for everyone. If you love boho chic vibes, then you can opt for floral or paisley prints.
On the other hand, if you prefer a more minimalist look, then abstract designs or geometric prints will be a great choice. Just don't be afraid to experiment because you have a curvy figure. It's time to step out of your comfort zone. Ultimately, fashion is more than just looking beautiful; it's about expressing your individuality.
Consider The Occasion
The occasion is another factor to consider when choosing the perfect print for your plus-size kurta. We all know that different occasions demand different types of kurti prints. Like for casual events, you can go for playful patterns like stripes or polka dots. In addition to that, for formal occasions, curvy women can consider more sophisticated prints like damask or paisley.
When you choose prints for your plus size kurtis as per the occasion, you fit well in the ambiance of the event's vibe. Just think about the vibe you want to create, and then choose the print that aligns with the occasion. Swasti Clothing offers a variety of prints that cater to both casual and formal occasions, ensuring you look stylish always, no matter what the setting.
Pay Attention to Colours
Most people are not aware of it, but colours play an imperative role in selecting the right prints for your ensembles. It's the colours that can make or break the print. Certain colours complement your skin tone and enhance your overall look. For example, earthy tones like olive green and mustard can work well if you have a warm skin tone. On the other hand, if you have a cool skin tone, then pastel shades or jewel tones print can work great.
Swasti Clothing offers a wide range of colour combinations that ensure you find a perfect match for your personal style and skin tone. Choose the right colour combinations of prints with the fabric like navy blue, black or deep maroon. These colours can create a slimming effect and add vibrancy to your ensemble.
Key Takeaway:
When it comes to choosing the perfect print for your plus-size kurta, remember that it's all about finding what makes you feel confident and comfortable. At Swasti Clothing, we believe that fashion should be inclusive and empowering for every body type. That's why we offer a wide range of prints and sizes to cater to your unique style and needs.
So go ahead, explore our collection, and find the perfect print that speaks to you. With Swasti Clothing, you can rock any print with confidence and style. Embrace your curves, embrace your style, and let your plus-size kurta reflect your vibrant personality.